Granulator With Dry Rolling Compactor
Granulator With Dry Rolling Compactor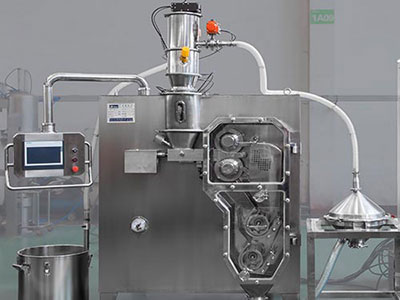 The granulator with dry rolling compactor adopts extruding, crushing and granule processing to produce dry particles required.

The following are 7 types of granulator with dry rolling compactor for you to choose from. We can also make different improvement on the base of specific types.
Item/type
LG-40
LG-70
LG-100
LG-150
LG-200
LG-250
LG-300
Max production capability(kg/h)
40
70
100
150
200
250
300
Grain fineness(mesh)
10~30
Total power(kW)
6.87
9.52
12.97
14.97
14.97
21
21
Outline dimension(mm)
L
900
1100
1450
1450
1450
1500
1500
W
800
1000
1450
1500
1550
1600
1650
H1
800(according to the customers' requirements)
H2
1200
1400
1600
1600
1600
1800
1800
H3
1000(according to the customers' requirements)
Complete machine weight(kg)
500
600
1000
1200
1350
1800
2000
Advantages
Production efficiency
1. The air extractor can evacuate the hidden air from the material so that the particles can be more compact and granulating rate can be higher after rolling treatment.
2. According to the experiment and production practice, the granulating rate of the material can be up to 80%~90%.
Health of operator
The sealing performance of the equipment is good so that there will be no dust leakage during the production, thus ensuring the operators' safety.
Operation of the equipment
1. Easy disassembly: the disassembly of the granulator only needs 3 mins, and the assembly only needs 5 mins. While the assembly and disassembly of similar products from other companies requires about 30 mins.
2. There are only a few kinds of nut of different specifications for the assembly of the whole granulator, so we need only a few kinds of tools required for the installation and disassembly. This means that the application is quite convenient.
Outline structure
1. The control cabinet and the main machine adopts integrated mounting so that it occupies small floor area.
2. The installation of the granulator is quite simple, so the installation personnel only needs to connect the general power and the electric cabinet with cables.
Data download
Particle Shape & Properties for Powder Material
---
Xiandao has more than 30 years' experience in producing spray drying equipment and fluid bed granulators. Because of various particle processing plant dryers and granulating machinery, we can offer complete spray drying and granulation solutions used in different industries such as pharmaceutical industry, food industry and chemical industry. Our spray drying machines and granulator machines are certified by ISO9000, ISO14001, CE and CU-TR. Due to superior quality and sufficient spare parts inventory, our machines are sold well in the USA, Japan, Australia, Korea, etc.
Jiangsu Xiandao Drying Sci-Tech. Co., Ltd.
Contact: Johnson Yang
Tel.: +86-519-88909308
+86-519-88900909
Fax: +86-519-88902563
Mobile: +86-13952333876
+86-13606127088
E-mail: johnson@cndryer.com
brian@cndryer.com