Spray Dryer with PSD Drying System
Spray Dryer with PSD Drying System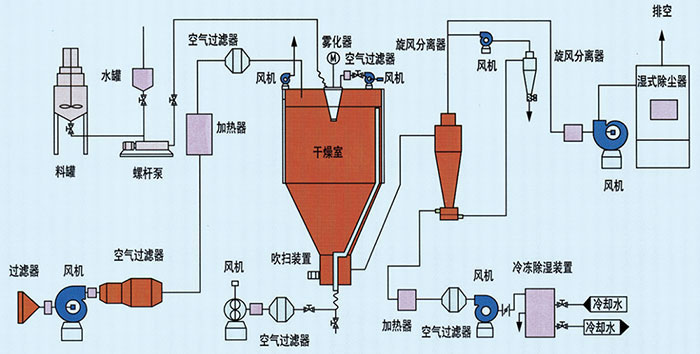 Main application
Food drying
Sugar drying
Medical products drying
Chemical product drying etc.

The following are some existed spray dryers with PSD drying system, you can choose according to your requirements. Jiangsu Xiandao can also make some improvements on the base of the following type:
Type
PSD-12
PSD-20
PSD-25
PSD-30
PSD-35
PSD-40
PSD-45
PSD-50
PSD-55
Water evaporation quantity(kg/h)
1-5
8-10
10-20
30-40
50-80
80-100
100-150
120-200
150-250
Material treating quantity(kg/h)
3-5
10-20
20-30
30-80
50-120
80-150
120-200
160-280
220-380
Solid content of wet material(%)
15-30
Finished product water content(%)
3-5
Electric power(KW)
21
36
45
63
126
180
216
270
360
Heating source
Steam (0.6~0.8MPa)+electricity
Product collection method
Cyclone separator+wet dust collector
Project control system
Project control system or human-computer interface PLC control; adopting Fuzzy technology to track exhaust temperature to realize variable air temperature to match material feeding quantity.
Inlet air temperature(℃ )
120~220
Outlet air temperature(℃ )
80~100
Diameter of the drying room(mm)
1200
2000
2500
3000
3500
4000
4500
5000
5500
Outline dimension
L
2500
3600
5000
6000
7500
8000
9000
10000
12000
Outline dimension
W
1800
3000
4000
5000
6000
7000
8000
9000
10000
Outline dimension
H
3000
5000
5800
7000
7500
8500
9000
10000
11500
Features
The spray dryer with PSD drying system adopts fully enclosed appearance. All parts are made of stainless steel. This dryer is equipped with 3-stage purification plant. The filtering finished air can meet 100K cleanliness standard.
The dryer tower is equipped with wall cooling device so that the wall temperature can be <80℃. So there will be no material coking when the material is resting on the wall. The powder collection rate can be up to 95% without phenomenon of material mixing and sticking on the wall.
Main components
Besides drying equipment for pharmaceutical industry, JiangSu Xiandao can provide more kinds of drying equipment or granulating machinery. Besides the dryers, we can also provide related supporting services such as design, installation, maintenance, equipment update etc. If you want to learn more information, please contact us, we will try our best to solve the problem you encountered in production.
Xiandao has more than 30 years' experience in producing spray drying equipment and fluid bed granulators. Because of various particle processing plant dryers and granulating machinery, we can offer complete spray drying and granulation solutions used in different industries such as pharmaceutical industry, food industry and chemical industry. Our spray drying machines and granulator machines are certified by ISO9000, ISO14001, CE and CU-TR. Due to superior quality and sufficient spare parts inventory, our machines are sold well in the USA, Japan, Australia, Korea, etc.
Jiangsu Xiandao Drying Sci-Tech. Co., Ltd.
Contact: Johnson Yang
Tel.: +86-519-88909308
+86-519-88900909
Fax: +86-519-88902563
Mobile: +86-13952333876
+86-13606127088
E-mail: johnson@cndryer.com
brian@cndryer.com