Aseptic Spray Dryer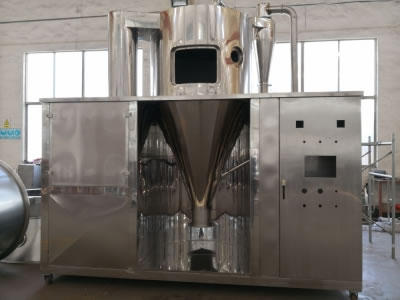 In order to realize sterilization of the aseptic spray dryer, the following improvements are adopted:
After being heated, the external cold air will be filtered by the hot air HEPA filter, so that the air quality can meet the GMP medicine production standards.
Mix the slurry and filtered water and stir it. Then mix the filtered air and slurry and realize atomization via two-fluid atomization nozzle to get better atomization effect and to meet the requirements of aseptic spraying.
To prevent powder sticking on the inner wall of the drying tower, the drying tower is equipped with air sweeper which can realize easy cleaning of the powder sticking on the inner wall.
Process flow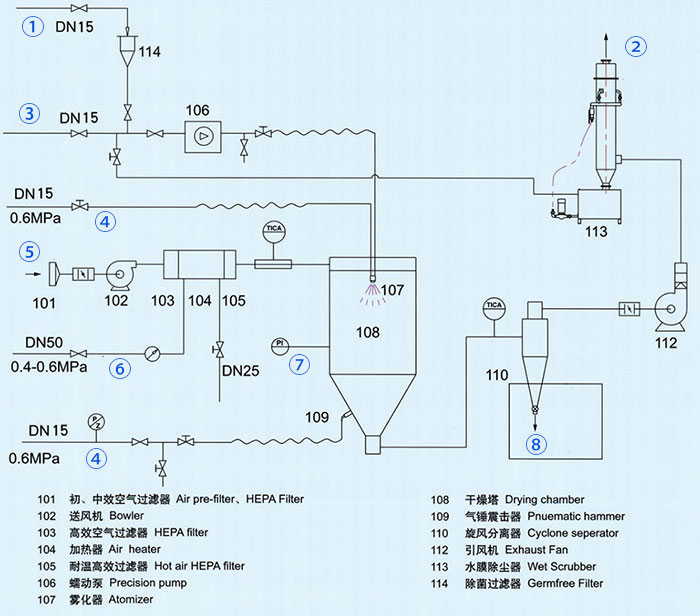 ① Slurry
② Draining
③ Sterilized water
④ Compressed air

⑤ Cold air
⑥ Steam
⑦ Condensed water
⑧ A septic clean room
The following are some kinds of commonly used aseptic spray dryer for you to choose from, you can also make some related improvements on the base of various types:
 Item
WPG
12
16
20
25
30
35
Inlet Temp (℃)
180-220
Outlet Temp (℃)
80-100
Atomizer method
rotary atomizer / two fluid atomizer
 Heat resource
Electrical heating
Steam +electricity
Steam +electricity
Steam +electricity
Steam +electricity
Steam +electricity
Power (kw)
21
36
60
72
108
135
Disinfecting method
Clean hot air sterilization
Sanitary grade
100K
Diameter (mm)
1200
1600
2000
2500
3000
3500
Height (mm)
3000
5200
6000
7000
8000
9000
 Material
Texture which directly contacts the material is 316L, the others are SU304.
Xiandao has more than 30 years' experience in producing spray drying equipment and fluid bed granulators. Because of various particle processing plant dryers and granulating machinery, we can offer complete spray drying and granulation solutions used in different industries such as pharmaceutical industry, food industry and chemical industry. Our spray drying machines and granulator machines are certified by ISO9000, ISO14001, CE and CU-TR. Due to superior quality and sufficient spare parts inventory, our machines are sold well in the USA, Japan, Australia, Korea, etc.
Jiangsu Xiandao Drying Sci-Tech. Co., Ltd.
Contact: Johnson Yang
Tel.: +86-519-88909308
+86-519-88900909
Fax: +86-519-88902563
Mobile: +86-13952333876
+86-13606127088
E-mail: johnson@cndryer.com
brian@cndryer.com