Lab Spray Dryer Granulator
Lab Spray Dryer Granulator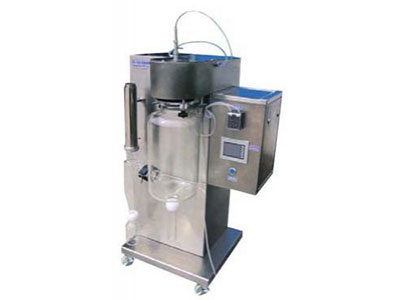 Description
The lab spray dryer granulator has the functions of both drying and granulating. It is mainly used in labs. The drying room, pipeline and dust collector of this dryer granulator are all made of superior heat resistant glass so that the observation of the material changing during the process can be convenient.
Parameters
Inlet air temperature control: 50~250℃
Outlet air temperature control: 30~140℃
Water evaporation: 1500mL/H
Drying period: 1.0~5.0S
Max material feeding quantity: 1500mL/H
Min material feeding quantity: 50mL/H
Standardized nozzle bore diameter: 0.7mm3
Heating temperature control precision: ±1℃
Whole machine power: 2.8KW/220V or 380V
If you are finding a kind of lab drying machine which has both drying and granulating functions, this lab spray dryer granulator is a good choice. This is a kind of vertical dryer with small floor area and low running noise which is less than 60dbA. If you have interest on this product, please contact us. We will provide performance introduction of specific types so that you can find suitable lab drying equipment which can meet your requirements from them.
Xiandao has more than 30 years' experience in producing spray drying equipment and fluid bed granulators. Because of various particle processing plant dryers and granulating machinery, we can offer complete spray drying and granulation solutions used in different industries such as pharmaceutical industry, food industry and chemical industry. Our spray drying machines and granulator machines are certified by ISO9000, ISO14001, CE and CU-TR. Due to superior quality and sufficient spare parts inventory, our machines are sold well in the USA, Japan, Australia, Korea, etc.
Jiangsu Xiandao Drying Sci-Tech. Co., Ltd.
Contact: Johnson Yang
Tel.: +86-519-88909308
+86-519-88900909
Fax: +86-519-88902563
Mobile: +86-13952333876
+86-13606127088
E-mail: johnson@cndryer.com
brian@cndryer.com